colour image
Author:  Norbert Reichmann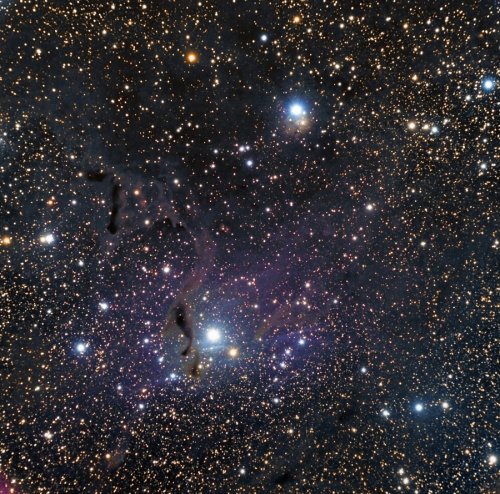 prancing garlands in spotlight of RZ Cas
     tänzelnde Girlanden im Lichte von RZ Cas
information
object: van den Bergh 7 und 9; Molekülwolken  LDN 1355, 1352 and 1353
constellation: Cassiopeia
object - type: Molekülwolken, Reflexionsnebel, Variable Sterne RZ Cas und SU Cas
notes: Der hellste Stern oben ist der oszillierende Algol Typ Variable RZ Cas. Der Reflexionsnebel neben RZ Cas ist vdB 7. Der blaue Reflexionsnebel vdB 9 ist nahe dem Zentrum des Bildes um den Mira-Typ Variablen SU Cas zu finden. Die tänzelnden Girlanden sind Molekülwolken: neben SU Cas befindet sich LDN 1352 und 1353, oberhalb davon LDN 1355. In diesem Projekt kombinierte ich eine deep-sky Aufnahme der himmlischen Umgebung von RZ Cas mit einer photometrischen Messung des Lichtwechsels dieses faszinierenden oEA Variablen.
With this project i combined photometric measurements of the oscillating Algol-type variable RZ Cas with data for deep-sky imaging.
telescope: LZOS TMB Apo 130/1200
camera: Apogee Alta U16M, KAF16803, pixelsize 9my
temperature, binning mode: -15°C, 1x1 all channels
filter: Astrodon Luminance, Red, Blue and photometric Johnson/Cousins band V, a LRVB image.
mount, guiding: Losmandy G11, off-axis Lodestar guiding
image data: L 190min,  RVB jeweils 150min
date of imaging: two nights in Dec. 2012